3.5Ah 11.1v 60W Endurance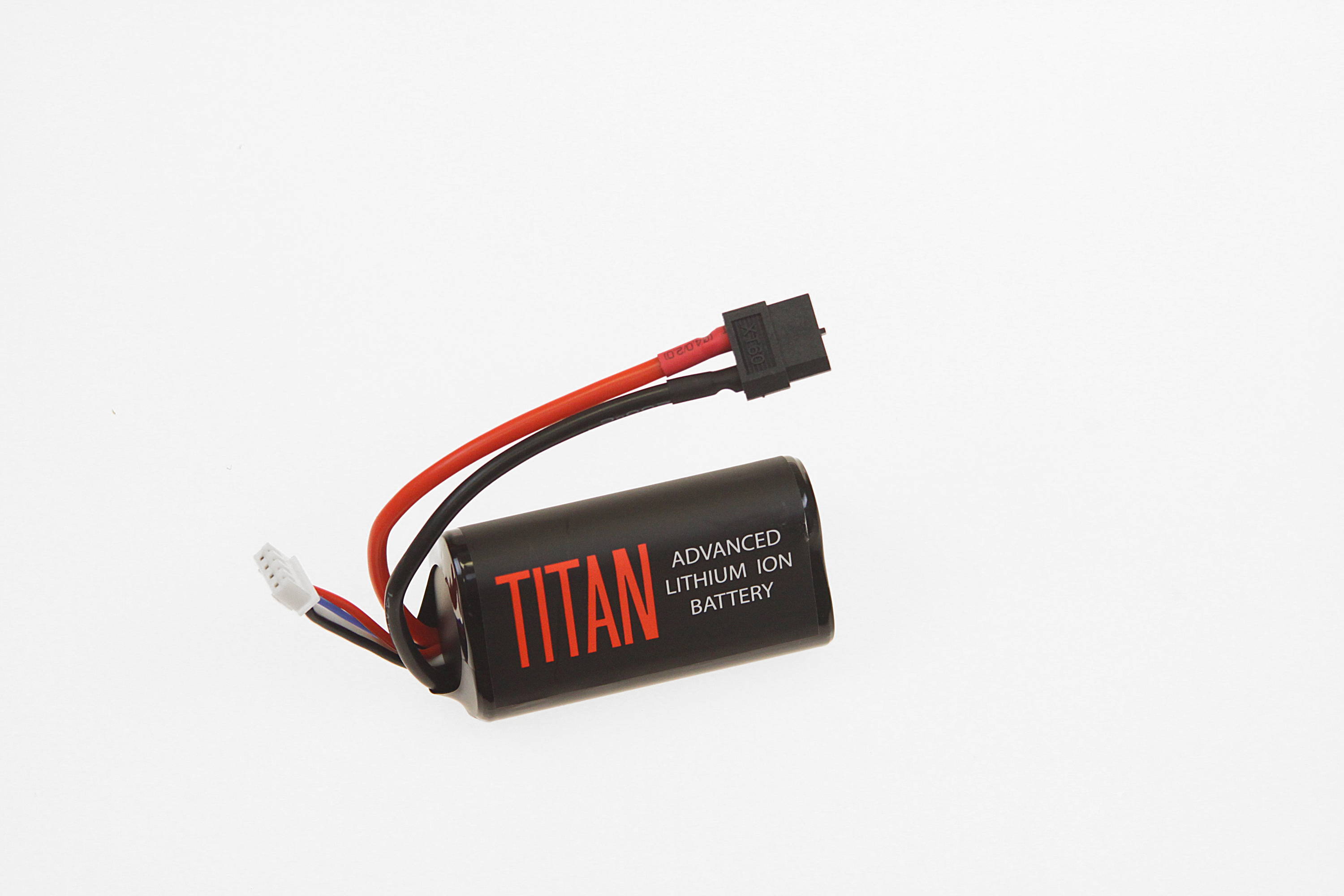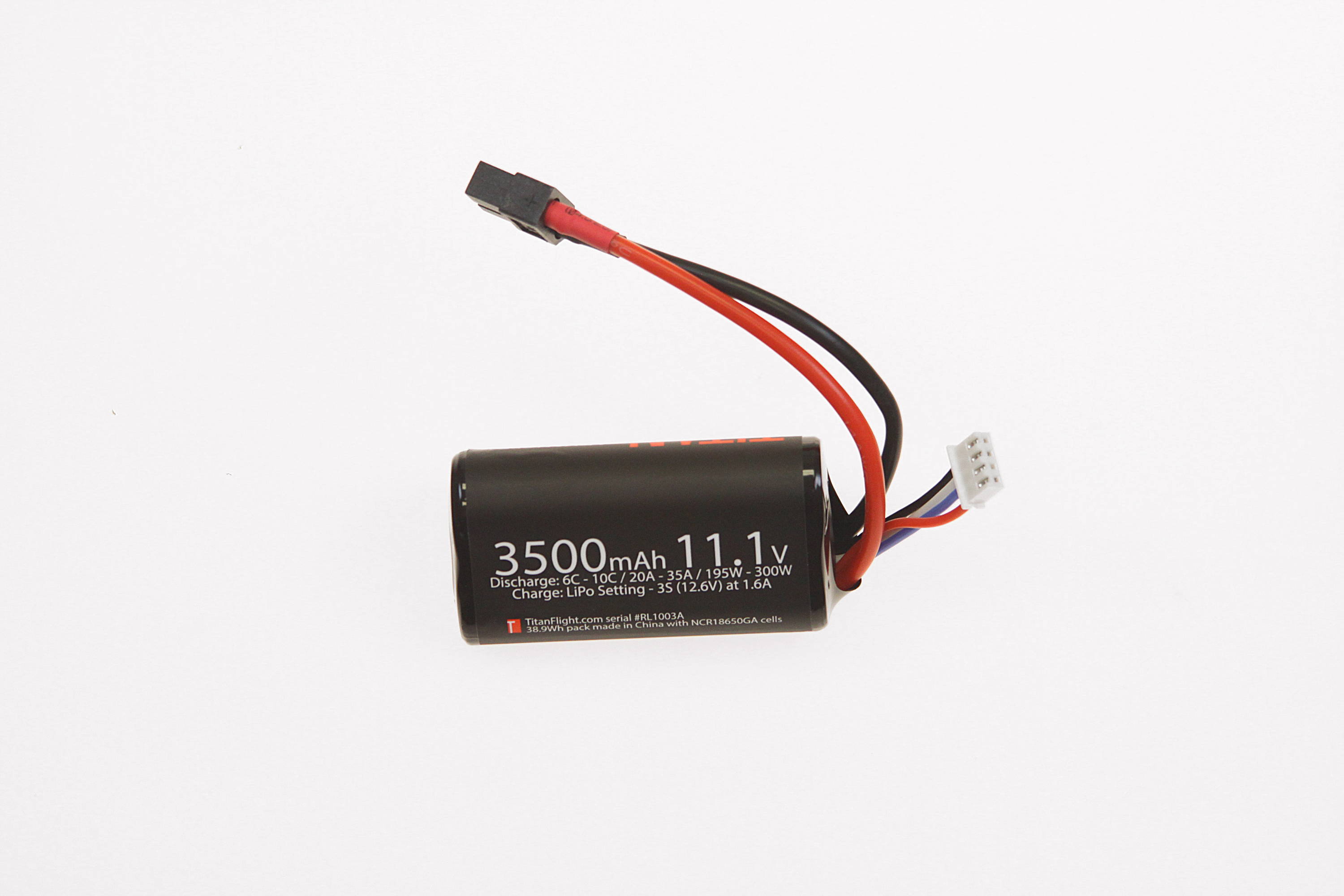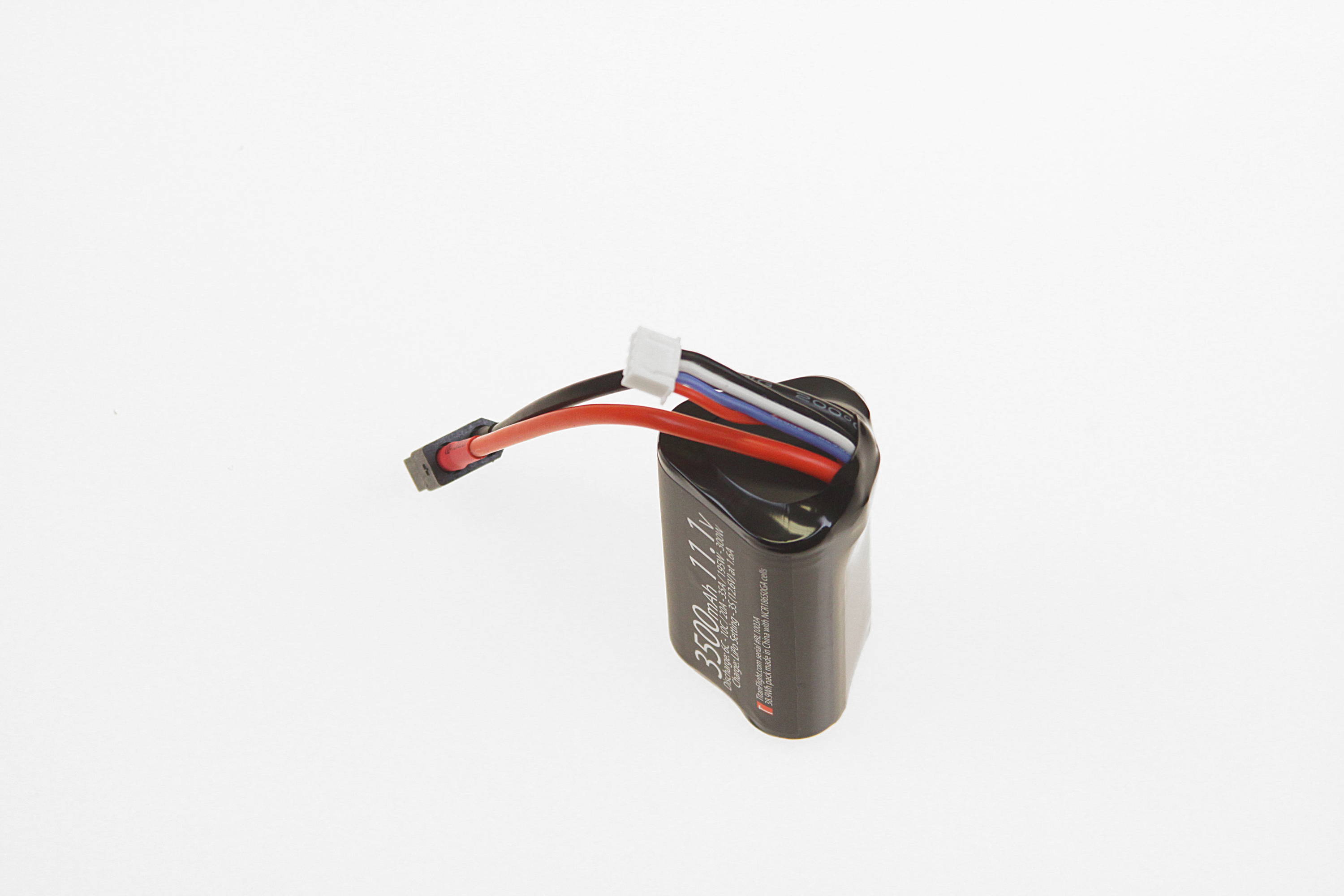 $25.00
Customer Rated
---
80% Better than a LiPo
This endurance pack uses the NCR18650GA cell, which means it can add 80% more flight time vs a LiPo battery, as long as your current LiPo set up can fly 18+ minutes (assumes you replace your LiPo pack with a Titan pack of the same weight). If this pack is discharged faster than 60 watts constant (less than 32 minutes) and is not actively cooled, it will overheat.
Physical
- Cell count: 3
- Cell type: NCR18650GA
- Configuration: 3 sets in series (3S) of 1 cells (1P) in parallel
- Pack Shape: 3x1 "brick style"
- Weight: 158g / 5.6oz
- Width: 37.6mm / 1.48in
- Height: 30.1mm / 1.19in
- Length: 66.5mm / 2.62in

Connectors
- Discharge Connector: XT60
- Discharge Wire Length (pack to connector end): 100mm / 3.94in
- Balance Connector: 3S JST-XH
- Balance Wire Length (pack to connector end): 30mm / 1.18in

Energy
- Voltage Range: 7.5v - 12.6v
- Capacity: 3.5Ah / 38.9Wh

Charging
- Use a 3S LiPo setting to charge up to 12.6v
- Charge at 1.75A for maximum energy storage

Discharge
- Burst: 35A / 10C / 300W (lasts a few seconds)
- Full Throttle: 20A / 6C / 195W (60 seconds full throttle, will get hot unless cooled)
- Constant: 7A / 2C / 60W (32 minutes, maximum constant discharge rate)
Customer Reviews
Based on 2 reviews
Write a review

Reviewed by: bohlebots
Used with: Robocup Robot
We are a young students robotic team an we take part at the international robocup soccer junior. We became West German champion and German open vice champion. The titan battery pack helped with longer lasting high power so we especially at the end of a game we where running faster than the others. see much more at www.bohlebots.de

Reviewed by: Endurance Flyer
Used with: Z-84
I have been using this on a Z-84 with an AUW of around 500g, inspired by this thread https://www.rcgroups.com/forums/showthread.php?2725674-Wing-Wing-Z-84-%28845mm%29-72-6km-long-range-90-minutes-stormy-rain-flight . I have tested it four times at close to the maximum current rating (e.g. 5 to 6A for 20 minutes +), and it performs well covering a round trip distance of 30 km on ~2200 mah. One important note... since you take off on 3s (12.6V) and land on 2S (8.4V), care has to be taken when setting your return-to-home settings to function over such a wide voltage range.
Have a question? Contact us here