7.0Ah 14.8v 160W Endurance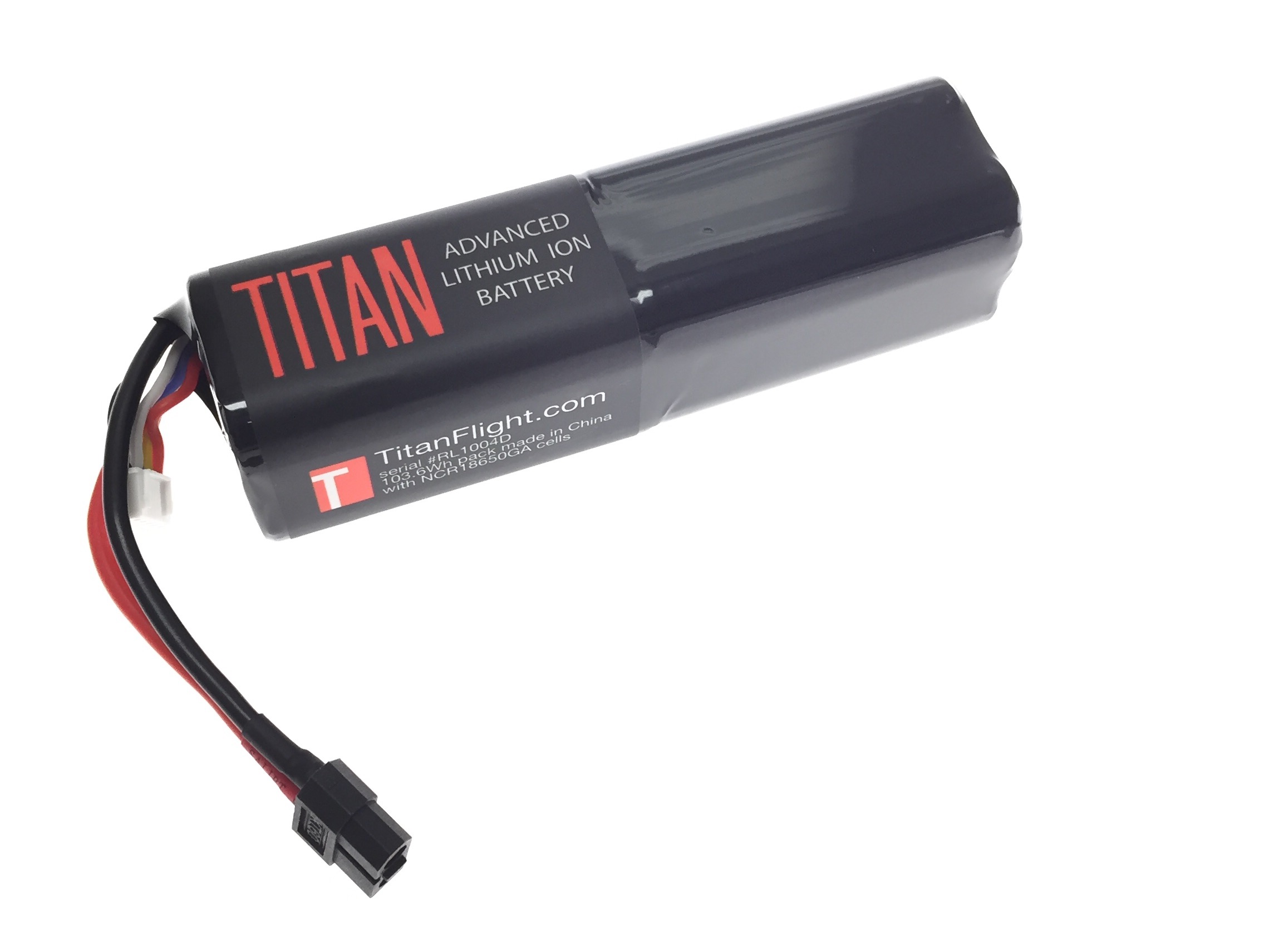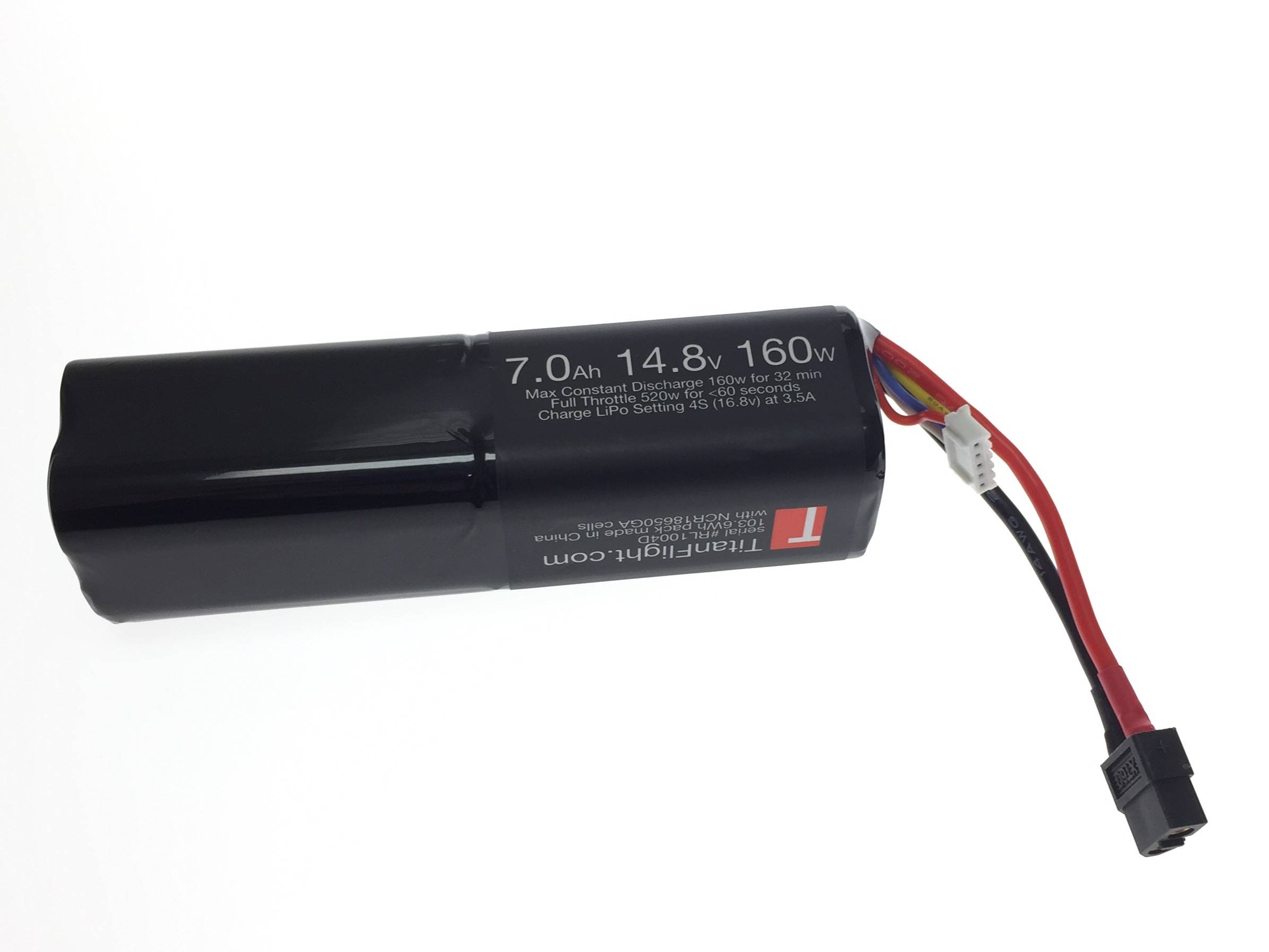 $58.25
Customer Rated
---
80% Better than a LiPo
This endurance pack uses the NCR18650GA cell, which means it can add 80% more flight time vs a LiPo battery, as long as your current LiPo set up can fly 18+ minutes (meaning this pack can, for the same weight, fly for 32 minutes vs a LiPo's 18 minutes). If this pack is discharged faster than 160 watts constant (less than 32 minutes) and is not actively cooled, it will overheat.
Physical
- Cell count: 8
- Cell type: NCR18650GA
- Configuration: 4 sets in series (4S) of 2 cell(s) (2P) in parallel
- Pack Shape: 2x2x2 "brick tube style"
- Weight: 408g / 14.4oz
- Width: 37.6mm / 1.48in
- Height: 37.6mm / 1.48in
- Length: 133mm / 5.24in

Connectors
- Discharge Connector: XT60
- Discharge Wire Length (pack to connector end): 100mm / 3.94in
- Balance Connector: 4S JST-XH
- Balance Wire Length (pack to connector end): 30mm / 1.18in

Energy
- Voltage Range: 10.0v - 16.8v
- Capacity: 7.0Ah / 103.6Wh

Charging
- Use a 4S LiPo setting to charge up to 16.8v
- Charge at 3.5A for maximum energy storage

Discharge
- Burst: 70A / 10C / 800W (lasts a few seconds)
- Full Throttle: 40A / 6C / 520W (60 seconds full throttle, will get hot unless cooled)
- Constant: 15A / 2C / 160W (32 minutes, maximum constant discharge rate)
Customer Reviews
Based on 5 reviews
Write a review

Reviewed by: Knotthrower
Used with: X-UAV Mini-Talon
Just hit a personal record thanks to this battery: 21 mile total distance/30 min flight time with my Mini-Talon. Still had 50% battery capacity left at the end of the flight!

Reviewed by: ZEmerson
Used with: My Twin Dream, Volantex Ranger
I've ordered two batteries from Titan now and both experiences were great! One battery was at my door in just a couple days. I back ordered the other battery and although it took some time to come back in stock (not Titan Power's fault), they emailed me multiple times to keep me posted on the progress. Oh! And the batteries are AMAZING!! Super light weight and work perfectly. I'm switching all my aircraft over to Titan Power!

Reviewed by: Olaf Hichwa
Used with: E-flite Apprentice & Racing Quad
I love this pack. Its build quality is great. I use it for my e-flite apprentice and my race quad (sometimes for long flite time.) I also use it to charge my phone using a lipo to USB converter found on amazon. It's great having the peace of mind that this pack offers as opposed to building one yourself.

Reviewed by: RangerEX
Used with: Volantex Ranger EX 757-3 1980mm
I've been running two of these in parallel on my RangerEX for some time now. As compared with two 5000mAh-4S LiPo-packs used earlier, two of the Titans made a big difference. Running quite lean on a recent flight I managed 90 minutes and I believe that 100 minutes is possible. When hitting 11Ah you should start considering returning home as there is not much punch left. Keep the height and plan for long descent, reserving power. I will try running this plane with three of these packs in the near future.

Reviewed by: MCR
Used with: Skywalker 1880, Homemade Quadcopter
I cannot begin to describe how well these batteries perform in fixed wing applications, they have surpassed all my expectations. The weight savings these provide and power is unimaginable. I highly recommend these to anyone looking for a better battery for fixed wing applications, if you are going to use them on quadcopters make sure you do your research, it gets a bit more tricky when applying them to mulitrotors!
Have a question? Contact us here